I'll give you a sneak preview. Below is a passage from the dedication page of my upcoming novel, The Splendor of Ordinary Days.
"Dedicated to the Wounded Warriors whose scars cannot be seen and for those who hope, pray, and wait for them to be whole again."
If you've been following these random blogs you'll know that much of "Splendor" deals with the deepening romance of Luke Bradford and Christine Chambers. That's still true.
But "Splendor," like all of the Watervalley Books, is really about the town and its people. And if you are from a small town then, just like me, you probably know a number of veterans. That because upwards of 70% of our country's military comes from rural communities.
In rural Tennessee – I am very proud to say – military service engenders a genuine respect that transcends boundaries of class, race, and gender. I don't care if you are white, black, rich, poor, male, female, educated or not…if you served in the military, and especially if you gave your life, we in Tennessee hold you in great reverence. When I was in grade school, a high school football star from my town was killed in Vietnam. Years later, as an adult, I happened to be in Washington, D.C. and went to the Vietnam Memorial to do a rubbing of his name to give to his sister, whom I knew only second hand. I intended it as simply a kind gesture. But strangely, the powerful, somber emotion of that moment brought me to tears.
So when I look around at small town life and consider what to write about, veterans are automatically part of the narrative. And well they should be.
Laced through the pages of "Splendor" are the stories of some of Watervalley's veterans. Some are comical, some are sad, all are important. And in particular, I write about PTSD…the scars that no one sees. In this country, one in four homeless men are veterans and every day, twenty to twenty-five veterans commit suicide, almost one an hour. It is a genuine, untold tragedy.
Gosh, let's face it folks, I love to laugh…and "Splendor" certainly has plenty of that. But there are also stories that move me to tears…stories worth telling. The story of our wounded warriors is one of them.
That's why I am encouraging those of you in the Middle Tennessee area to come cheer on the Wounded Warrior Ride as they finish their ride in Water Valley on September 25.
For more information, go to: http://www.woundedwarriorproject.org/programs/soldier-ride.aspx
I'll pass along more information about the route in the coming days. Think about it. It's a great way to show tangible appreciation for these men and women who have served.
Also, the fellow in the picture is Taylor Morris, a veteran of Afghanistan whose story is absolutely incredible.
Learn more about him at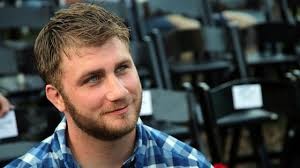 http://taylormorris.org/home/.
As I've said before, the Watervalley Books are my love    letters to small town life…and the stories worth telling.
Until next time.
Jeff