Hey Folks!
Lida here again!
And I'll be darned if we still don't have tons of tomatoes coming in down at the garden. Just shoot me. I keep praying for an early frost to kill the suckers.
Meanwhile, since there's been a little chill in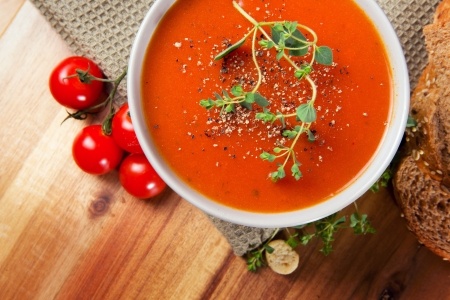 the air, folks down at the Depot Diner are asking when my roasted tomato soup will be back on the menu. I'm sick of tomatoes. So my response is "How about never. Does never work for you?"
So to make the regulars down at the diner shut up about it, the soup is going to be October's recipe of the month. Make it, eat it, love it, and quit bugging me for it.
And if you're down at the diner, try the squash casserole. Anybody who mentions tomato soup is just asking for a fight. They'll get a prompt reply!
Lida's Roasted Tomato Soup
You'll Need:
6-10 Good size tomatoes
1 Head of garlic
1 Cup of vegetable or chicken broth
½ Cup of fresh basil
½ Cup of heavy cream
Olive oil
Salt (Either regular or kosher….seriously, what's the difference? Salt is salt.)
Pepper
Put oven on broil.
Slice the tomatoes into 1/3 inch slices and place on an edged oven pan. Sprinkle liberally with olive oil. Separate garlic cloves and place randomly on the tomato slices.
Place pan on top oven rack for 15-18 minutes.
Tomatoes are done when the edges begin to char. The garlic will char as well.
Remove from oven and use a spatula to place tomatoes and garlic into a blender. Add in any remaining juice from the pan. Add basil, broth, and cream along with salt and pepper to taste.
Blend until smooth and enjoy. YUM!