Idgie at Dew On The Kudzu, a website dedicated to "Celebrating the Southern Written Word" says that Jeff High's new book,"More Things In Heaven And Earth,"  is "a lovely novel that had me tearing up in the first chapter and cracking up in the second."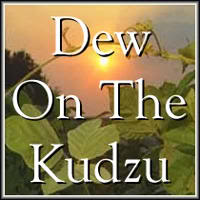 Idgie started Dew on the Kudzu in 2005 with the goal of sharing the beauty of the South and it's writing with everyone.  Another goal was to encourage unestablished writers to take up the challenge of the written word, should they so desire.

Since it's inception the Dew has evolved into a site centering solely on short stories and book reviews. All of short stories come from many wonderful writers, mostly Southern, but some from as far away as Ireland and Nigeria, while the book reviews all come from Idgie herself.

The Dew started as a labor of love and Idgie is proud to say that to this day it's still a mad romance.
In her review of High's new book she makes a fair comparison to the James Herriot novels and the popular 80's movie, Doc Hollywood, that featured actor Michael J. Fox while also pointing out the key differences.  For example, this easy read is not about animals, and the protagonist, Luke Bradford, is in Watervalley by choice, though he isn't happy about it.
She says that "his book is giving me warm fuzzy flashbacks to my reading days when I was younger.  It's a throwback book to a time when stories were gentle."
You can read the whole book review here.
More Things In Heaven And Earth is the first novel in the Watervalley Books series and is now available at Amazon.com, Barnes & Noble, Books-A-Million, and anywhere else that books are sold.