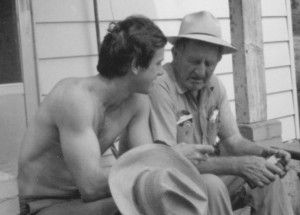 In the summer of 1976 I returned home from my first year of college.
During those months, America celebrated its bicentennial, CB radio's were the rage, Viking I landed on Mars, Evita Peron was kicked out of Argentina, (you know..don't cry for me), and a guy named Steve Jobs got the idea for his new computer company after stopping by an apple farm one day. (True story.)
But I was blissfully unaware of all of these things. I was living in Water Valley.
My freshman year had been tumultuous. Along the way I had changed majors from Chemistry (pre-med) to English…a decision that was less than popular with my well-meaning but quite controlling parents. Thus, moving back home for the summer was both awkward and undesired. An opportunity arose to live with and look after a close friend's grandfather who was suffering from occasional bouts of dementia. I took it. He lived in Water Valley, Tennessee.
He was an older gentleman who lived alone on a sizeable farm down a county road that also bore his name…a peculiar practice of rural Tennessee from decades past where roads were eventually named for the people that lived on them. His name was Bass.
He was a small man of Irish origin, born near the turn of the century, who had a full head of neatly cropped snowy hair and, by some unexplainable process, permanently had a two-day stubble of white whiskers –no more, no less. His eyes were fair colored, mischievous and penetrating. He also had an unfailing wry grin, one that seemed to be constantly suppressing some inner mirth that was desperately in want of surfacing. In many ways, he was amazing.
I worked at one of the local chemical plants that summer, an eight hour day in the sun that involved the glamorous use of a pick and a sixteen pound sledgehammer. It wasn't near as much fun as is sounds. But the pay was incredible.
So my days involved a pre-sunrise morning, work, then returning to Water Valley to shower, sometimes prepare dinner, (the family would often bring food), and spend the evening talking to, and generally looking after, Bass. He would frequently repeat the same tales from the previous evening –a byproduct of his dementia. But not always. There were also times of crisp lucidity in which he told stories about the joys and hardships of farm life, about local beauties and Saturday night dances, about war and lost love ones, and about a lifetime of faith that ironically involved healthy portions of both doubt and thankfulness.
During my short time with Bass we developed a curious friendship. Most days he called me by some name other than my real one, but he always seemed to know me. That is, except for the time he took his pistol and shot at me from the porch when I arrived home in the dark late one night.
Despite being the occasional subject of target practice, it was a magical summer. My love of literature consumed me. Many evenings I would wander into the nearby pastures and spend hours buried in the pages of the romantic poets. The idealized writings of Wordsworth, Keats, Shelley, and Coleridge had become my new reality. I began to formulate a grand understanding of the human condition based upon an outlook of pure optimism. Isolated there in the remote hills of Water Valley, I looked upon the world with fresh eyes and a new enlightenment, an unbounding sense that life had limitless possibilities.
Coupled with the endless energy of youth, I sought adventure and thought of foregoing school that fall. I would travel to Texas to work the wheat harvest, following it up to Montana. Much like Steinbeck, I would absorb everything and write about it. It would be glorious.
Then, well…life happened. An untimely auto accident changed everything. I was physically unscathed but financially in disarray.
I returned to school, fell in love, graduated, went to work, had a family. Beyond a doubt, these were all good things. But along the way the storms of the larger world took their toll. The idealistic pillars of that romantic summer either collapsed or were largely forgotten. But not completely.
In 2010, my wife and I quit our jobs and drove across the country to Oregon where I worked for the summer as a travel nurse. I finally had my long desired adventure. While there, I finished the novel I had been sporadically working on for the past ten years. But instead of writing about a journey to unknown places, I wrote about home, about the strength and beauty of my agrarian roots. The manuscript was called, "Watervalley." Penguin later changed it to "More Things in Heaven and Earth."
Part of me still sees the world through those idealistic eyes, as is often manifested by Luke Bradford's relentless choice to never give up on those around him, including the detestable Luther Whitmore. As well, the years have tempered things…thus, the occasional cynicism of John Harris.
But perhaps an unknown character in all of this was the wily little fellow from 1976 who was the reason I came to Water Valley in the first place. His unforgettable blend of wit and wisdom shows up in the character of Knox McAnders in "More Things in Heaven and Earth," and as the guileful Leland Carter in "The Splendor of Ordinary Days."
I still seek adventure and have a curiously unquenchable desire to travel to, and live in, new places. Perhaps at some point, I will travel nurse again. Because invariably, one of the delights of that process is the opportunity to reflect upon home, to filter out the chaff of everyday life and write about those things that are good, and strong, and eternal.
Rightly or wrongly, I'd like to think the best of me is still up my sleeve. Time will tell.
And by the way, the picture is of Bass and me sitting on his side porch. As I often say, I don't just make this stuff up.
Until next time!